The Irondequoit Inn, Piseco, NY
The Motivation
My wife and I needed some time away. Away from the kids, away from the countless interruptions, but mostly away from the computers that consume our lives. Vicki, my wife suggested a Bed And Breakfast, and of course my first thought turned to fly-in getaways. My first step was to drag out all the North East Weekend Flyer magazines I've been saving for just such an occasion, but then I got not one, but two good reports from fellow flying club members about the Irondequoit Inn in Piseco NY. First a club member had been forced to land there by bad weather, and had liked what he'd seen, and then another club member went there for an overnight based on the previous report. Both reports were so glowing that I had to try it for myself.
The Flight
Being a VFR pilot in a busy flying club, it's always a happy coincidence when I can get an airplane for a whole summer weekend, and that weekend turns out to be good VFR weather. When that happens on a weekend when both my wife and I are not due to be looking after our kids from previous marriages, and we don't have soccer, school performances, awards ceremonies, or any of the other distractions is an even bigger bonus. So when the long range forecast for Memorial Day weekend was showing sunny to mostly sunny all weekend, and I had a plane booked, I was hyped.
Saturday dawned severe clear, and the flight to Piseco was smooth and uneventful. About the biggest problem was that the identifier for Piseco Airport has changed since I bought my GPS, and I had to look it up by name. A direct route didn't pass through any MOAs or anything bad, or even near enough to make a controller nervous.
Amazingly for a holiday weekend, there wasn't a lot of traffic in the air, and we got good flight following the whole way. Of course, I remembered to file a flight plan, because the controllers at Rochester usually refuse to give you flight following without it. But I filed it the night before using DUATS, and I was about a half hour late starting, so Rochester Clearance Delivery couldn't find the strip. But uncharacteristicly, the Clearance Delivery guy took my information and made me up a strip. I consider this service above and beyond the call of duty, but I probably only feel that way because I'm used to being told to call the FSS and file and "push the strips".
As if you needed any more reason to love flying in perfectly smooth severe clear at 7500 feet, my wife reminded me of all those people below me dealing with accidents, construction, and speed traps. Life doesn't get any sweeter than this - unless we could have added a 30 knot tail wind in both directions, with calm winds at the airport.
As I got very close to Piseco and was descending from my cruise altitude, I started to feel a bit of turbulence from the mountains all around. Griffiss Approach terminated radar service about then because I was getting down into the weeds, and then the turbulence really started. I tried to get airport advisories three times, and the response got stepped on by people at other airports on the first two attempts. I finally got it by waiting until I was below the altitude of the surrounding hills.
A bit of a digression here: The airport pictures were actually taken the next day as we left, which explains why there are clouds in the sky and no King Air on the ramp. But you probably could have figured that out from the date-stamp on the pictures.
I'm not used to flying into such a hilly area, except a trip to Saranac Lake last year. As usual I over flew the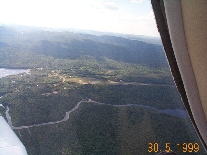 airport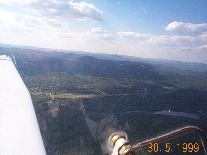 at 1000 feet over pattern altitude to look at the windsock(s) and the runway. The two windsocks were indicating different directions, but both seemed to indicate runway 4 was best. And it has right traffic. I found it difficult to fit in my normal swing around to a 45 degree entry to downwind because of the hills all around (and because it's right traffic - I hate right traffic). I ended up entering base, rather than on downwind, and making a rather rushed approach. And screwing it up - I was too high, and with the swirling cross winds and turbulence I ended up going around. With a more relaxed full pattern, and a bit of experience with the strange winds, the second attempt resulted in a not too ugly landing.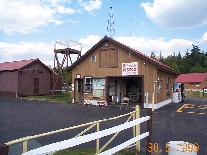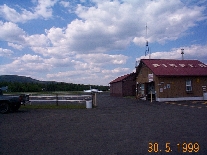 The airport was one of those sleepy little airports that I love so much because they represent the past and future of general aviation. As usual, this one has the friendly staff, cheap overnight tie-downs ($5.00), and friendly dog. But this one also has fresh pavement, a paved and lit helipad, and that day they had a King Air with a couple of bored looking charter pilots waiting for somebody. Local scuttle-butt has it that the area has private resorts and cottages catering to CEOs and movie stars. Gas wasn't too cheap ($2.20 a gallon), and there were no "big airport" services like rental cars. I believe a courtesy car was available, but our destination was only a half mile away, and we'd seen it while we were on final, so we decided to walk.
The Inn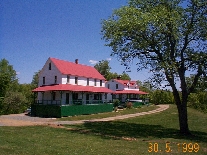 Walking to the Irondequoit Inn turned out to be deceptive. We got to a really nice little bridge over a brook, and a debate ensued over whether we'd gone too far or not. We were discussing whether to go on or back, but a quick look up the hill proved that we'd stopped about 50 feet too soon.
When we got to the Inn, we were greeted by a lovely century old "hunting camp" style building on well maintained grounds. There was a view of the lake, cabins down by the water, and tennis courts. But strangely enough, there were no people. We tried to get somebody to come out and check us in by pushing the buzzer button and softly calling "hello", but we didn't want to disturb the peace too much.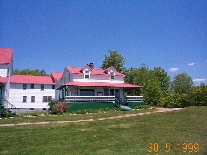 We walked around the lodge a bit, checking out the sitting room, living room, dining room, etc, and looking in the bed rooms, and deciding we'd made a great choice. Eventually the owner, Andy Danec, heard us and came out and checked us in. That was pretty informal - he didn't demand any proof of who we were or that we could pay. He showed us around a bit, explained that there were only going to be three other couples staying in the lodge so we'd have a bathroom to ourselves, and then told us that if we wanted to get some lunch we should grab his truck - the keys were in the ignition. He described several of the local restaurants and we chose one for lunch, and he offered to make dinner reservations for us at one of the nicer ones while we were at lunch.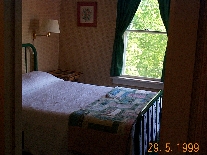 Lunch was at the Piseco Lake Lodge, which was pretty ordinary country restaurant decor, except for the profusion of hummingbirds. A real live hummingbird came to the feeder just in front of our table as we were eating, which certainly explained the decor. Vicki and I both had cheese burgers, and they were huge and juicy, like the sort you'd expect at a friend's barbecue, not at a restaurant.
After lunch, we went back to the Inn and headed down to the beach. That's where we met Crawford, the Inn's friendly resident spaniel. And his smelly and slobbery tennis ball. Don't make the mistake of throwing this ball unless you want to see an awful lot of Crawford for the rest of your stay.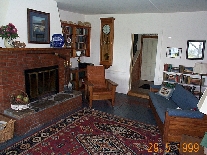 On the beach, there was a killdeer warning us away noisily, and staying on a particular spot, so we suspected she was guarding a nest. Sure enough, we got just close enough to cause her to do her "wounded wing" imitation, and we saw three mottled eggs in a little depression under where she'd been. We quickly backed off to let her get back to her eggs. The lodge has a boathouse full of canoes and kayaks, so we took a canoe and went paddling around. In the lake itself, we saw a loon and some ducks. There was a lot of traffic at Piseco Airport, and most of it went right over our heads on short final. As we paddled on the lake, I looked up at the Piper Warrior right above us and was shocked to see it was one of our club planes, 38290. I was half tempted to rush back to the lodge and run down to the airport to see who it was, but that was too much like hard work.
We went up one of the creeks that empty out into Piseco Lake, and enjoyed a quiet paddle without worrying about motor boaters or jet skis. We encountered another duck, this time with approximately 10 little chicks. It's hard to get an accurate count, because the chicks kept darting into and out of the underbrush, running across the surface of the water, and crawling up on each other's backs.
We paddled up far enough to reach a bridge under the main road, with some small rapids underneath. There was a well worn portage trail around the rapids, but neither of us had paddled in a lot of years so we decided to head back. The way back revealed that we had been heading against the current on the way up, and so we took it easier now we had an assist.
After paddling, we recuperated by sitting on the porch and reading. The Inn has many books and photo albums detailing the history of it since it was founded as the Irondequoit Club in the 1890s. There is also a journal where people record their experiences and accomplishments. That was fun browsing through, as it had everything from young kids who were being dragged along by over zealous parents to retirees whose paddling and hiking adventures put us to shame. There were also several reports of a lake monster.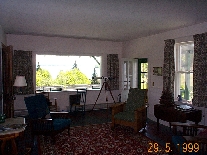 We met a couple from Poughkeepsie who had flown up just to look the place over, and we showed them around a bit since Andy was absent on an errand. They kept marvelling at how clean everything was, and I must say that while I expect cleanliness in a resort, I was amazed at how well maintained everything was. They had also seen the other member of our flying club on the road up to the lodge, but he'd turned back too soon - at the same bridge where we'd nearly turned back.
Andy came by to tell us that he'd been unable to get us a 7 o'clock reservation at Melody like we'd asked, but we could go to our second choice, the Inn at Speculator. That suited us fine, as they both sounded nice. While we were recuperating, Andy went into town to run some errands and bought us a bottle of wine. We also met Andy's wife Susie, who is just as friendly and helpful as Andy.
Dinner at the Inn at Speculator was outstanding. I had Prime Rib and Softshell Crab. Vicki had some sort of steak thing with hollandaise sauce on top. All the beef there was certified by the "Angus Society" or something like that, and from what I tasted it was excellent. Dinner for two without wine or drinks came to about $40.
After dinner, we went outside to see if we could see any stars, but the moon was full and so bright we could barely spot the really bright ones. So we didn't drag the telescope out of the living room to look at the stars - we just walked around enjoying the amazing brightness of the moon. The porch of the lodge was picked out with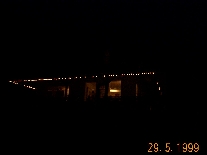 white Christmas lights which this picture really doesn't do justice to, but which made for a really nice effect.
The next morning, the Inn served up a fantastic breakfast. It was all I could do to limit myself to just a few blueberry pancakes and bacon with Andy offering several types of pancakes, eggs, omeletes, muffins and other delights. One complaint from Vicki: the coffee was very weak. And she's very serious about her coffee.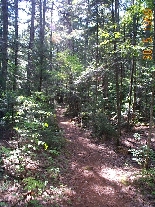 After breakfast, we went back down to the beach to check on the killdeer. Some people had been camping very close to that spot, and I was worried that somebody might have stepped on it in the night, but luckily she was all right and I assume the eggs were still there. We also went paddling again in the canoe. We explored the same stream as we had the afternoon before, spotting the duck with chicks again, several Painted Turtles, and a Great Blue Heron. Again, we turned back rather than portaging, and we explored two other smaller streams as well, seeing Red Winged Blackbirds, Black And White Warblers, a Common Merganser, and more turtles. We then headed out across the lake a short distance to a small island that belongs to the Irondequoit Inn. We explored that a bit, but we didn't find any evidence of the structure that used to be there back when the Inn was a semi-private hunt club.
Returning to the lodge, we again borrowed Andy's truck to go for lunch. This time we went to The Oxbow Inn where the food was good, the decor was nothing to write home about, but they don't take credit cards. Be sure and have some cash with you, since there probably isn't a cash machine anywhere close by either.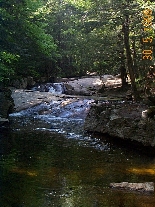 After lunch, we lazed around again recovering from all that paddling, and then decided to try a bit of hiking. Down at that same bridge I mentioned earlier there is a hiking trail alongside a stream. In the short distance we walked, we got many spectacular views of the stream. We didn't go too far because we were both tired, and Vicki hadn't put on mosquito repellent (even though she brought it) so she was getting eaten by the black-flies.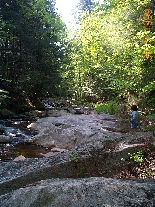 The Return Trip
After the hike, we returned to the Inn, settled up, and got ready to leave. Once again, Andy was more than generous with his truck, and told us to take it to the airport, and leave it there with the keys in the ignition and the door unlocked and he'd pick it up later. We could have walked, but this saved us the trouble of schlepping our bags back down the road.
The flight home was a tiny bit bumpier than the trip out, and there were a few clouds at 7,000 so we flew at 6,500. Griffiss was quite willing to put us in the system for flight following all the way home, even without a flight plan, and we talked to quite pleasant and unrushed sounding controllers all the way home.
Conclusions
All in all, it was a great trip, and I won't hesitate to go again. Unfortunately the airport is closed in the winter, so we can't go there for a ski trip unless we drive. But we've already planned a fall color trip. I wouldn't recommend this for people who need the trappings of civilization to be entertained, but if you and your family can be entertained by swimming, playing tennis or exploring nature, then this is a great place.
Next time, we're going to specify a room with a private bathroom. It doesn't make a lot of difference to me, but Vicki says she'd be more comfortable that way.
---
Paul Tomblin / ptomblin@xcski.com
Other Pilot Reports From the Rochester Flying Club