History of Flight Airshow, 26 July 1997, Geneseo, NY
Here are some pictures I took at the History of Flight Airshow, sponsored by the 1941 Historical Aircraft Group. I didn't take pictures of everything, just stuff I was interested in. Not all of the pictures turned out.

I have a thing for Chipmunks, probably because my dad worked for deHavilland Canada for 30+ years. Lovely planes, with that great deHavilland tail.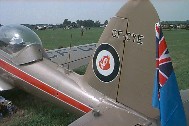 This one has a nice "Chipmunk Rondel" and is painted in the colours of the RCAF Golden Hawks (who flew CF-86 Sabres, not Chippies).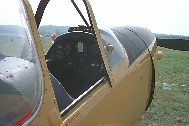 The cockpit of a Chipmunk in RCAF training colours. Lots of people got their shirt-tails cut off flying these guys.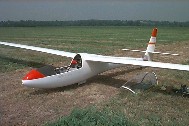 I've been watching Oscar Boesch's routine "The Wings of Man" for over 25 years. He's still amazing. Here's his plane sitting right on the flight line before the show.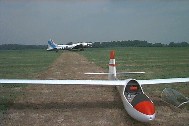 Here's the Confederate Air Force's B-17 "Sentimental Journey" taxing past Oscar Boesch's sailplane.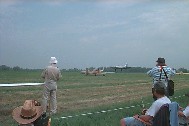 Sentimental Journey lands while a Chipmunk taxis out, and Oscar Boesch attaches the smoke pods to his plane.
Here are three views of the P-38J painted to look like Dick Bong's "Marge".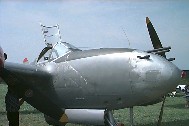 This one shows the nose well.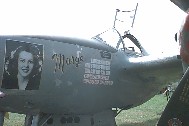 A good view of "Marge", which needs a touch of paint.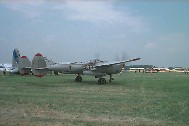 Taxiing back after his show.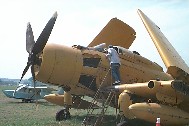 Just for my friend Nan, I include a picture of the 1941 Historical Aircraft Group's Skyraider. This one is some weird precursor to the AWACS that was operated by the Swedish Air Force.
One of the most beautiful aircraft ever built is the Beechcraft Staggerwing. I just love it.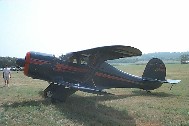 Looking good.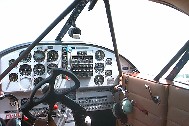 A nice clean modern panel.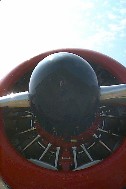 Up your nose.

Just as I was leaving, this balloon suddenly took off.
---
Paul Tomblin / ptomblin@xcski.com